About the Event
Councilmember Herbold invites you to join her this Labor Day to celebrate the history of Labor and support the Labor Achieves of Washington. The fifth annual Poker Run… Wait what's a Poker Run?
A poker run is a motorcycle rally (cruisers, tiddlers (under 250 cc), sport bikes, scooters, all that ride are welcome) that people ay a small entry fee to participate, the participants visit multiple sites, they each collect a playing card at each site, and at the end the participants compare their hands and whomever has the best hand wins a prize.
This is the fifth annual Poker Run hosted by Councilmember Herbold, and winning hands win prizes from local unions and vendors. A $20 entry fee will go to support the Labor Archives of Washington. The ride is all on largely empty city streets the weekend of Labor Day, speed limits are all under 40 and is very friendly to smaller bikes and scooters.
2019 Waypoints, Route and Times
| Location | Address | Station Open |
| --- | --- | --- |
| Ride leaves from Chelan Cafe | 3527 Chelan Ave SW - West Seattle | Depart 10:00am registration is open at 9:30 |
| West Seattle Water Taxi - Hosted by Inland Boatman's Union. | 1660 Harbor Avenue SW - West Seattle | 10:00 - 10:30 |
| IAM (Machinists) | 9135 15th Pl S - South Park | 10:30-11:30 |
| ILWU (Longshoremen) | 3440 E Marginal Way S - SODO | 11:00-12:00 |
| IBT (Teamsters) | 14675 Interurban Ave S - Tukwilla | 12:00-1:00 |
| Ironworkers | 4550 S 13th Pl Tukwilla | 12:30-1:30 |
| Lucky Liqyor | 10325 E Marginal Way S Tukwilkla | 1:30 onward. |
Suggested Route Map
Due to projected high traffic of both auto and pedestrian we will be re-routing to avoid the Alki Beach area
Re-route is up California across from West Seattle Ferry, and on to Fauntleroy. In the interest of putting a little West Seattle coastling on the route, I've added Marine Drive after Fauntleroy. Marination Ma Kai shares the same parking lot with the Water Taxi. Somehow google maps forgot what the water taxi is.
Additionally, google maps is insiting on listing I-5 as the route instead of the intended airport way. Bad Google Maps.
Click here for interactive Google Map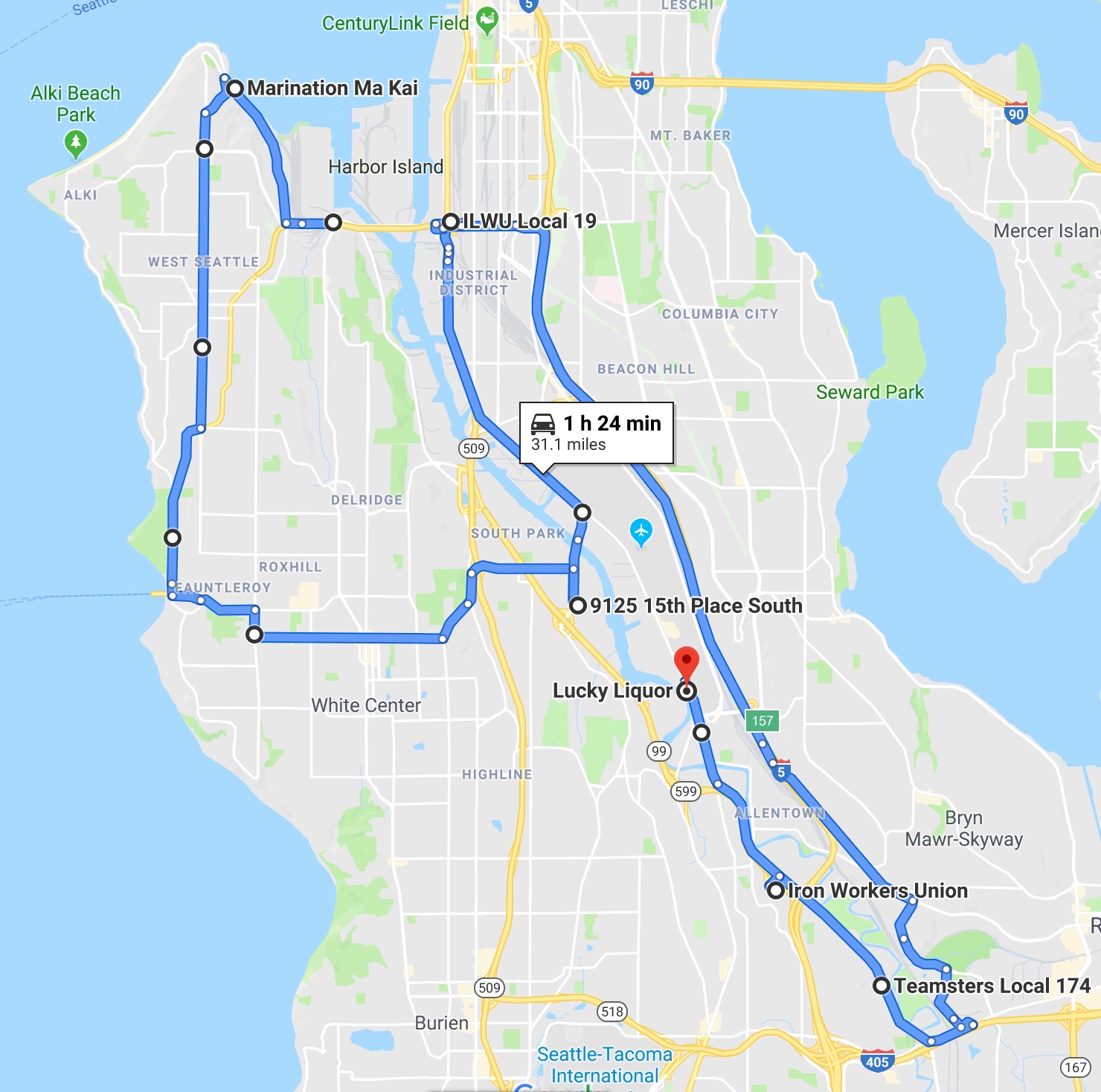 Rules of the Game
Collect the Best Poker hand Possible
Riders will draw a card at each waypoint. Draws will be recorded on a rider card.
Duplicate draws will result in a "Rider's Choice" pick (a wild card of sorts chosen on the spot).
Standard poker hand rules apply.
Prizes for Top Hand, Second Highest Hand, and Top Hand Scooter Rider.